All the other states signatory to the Iran nuclear agreement stress that it is working, as does the International Atomic Energy Agency, the Secretary General of the UN and scientists and intelligence services of the West, Russia and China.
But US President Donald Trump, it appears, is determined to sabotage the deal and, in the process, make the world a place less safe.
Even in the US, a poll found that public backing for the agreement is the highest ever, with 56 per cent supportive of keeping it, with 26 per cent opposed, and the vast majority of experts on the subject in the country pointing out that Iran is keeping to its side of the commitment, which in turn is helping to prevent nuclear proliferation in the region.
The poll was taken after Benjamin Netanyahu's "revelations", presented with much drama, about Iran's supposed secret plans for a nuclear arsenal. But what the Israeli prime minister produced was swiftly dismissed as old material, examined and addressed by the IAEA three years ago.
Mr Netanyahu's show was trumpeted, so to speak, as offering the evidence which will allow Mr Trump to effectively kill off the landmark JCPOA (Joint Comprehensive Plan of Action) which had been achieved after years of hard bargaining.
The other parties to the agreement – Britain, France, Germany, Russia and China – have pointed out that, in reality, there was no such credible evidence.
In Israel, no fewer than 26 highly senior former officials from the intelligence services, armed forces commanders and the head of Israel's Atomic Energy Agency have also stressed the vital need to keep the agreement in place.
They said in a message to Washington: "As former officers and leaders in Israeli security agencies, we believe it is in Israel's best interest that the United States maintains the nuclear agreement with Iran. The International Atomic Energy Agency has consistently and repeatedly found Iran to be in compliance with the agreement. The consensus among the military and intelligence agencies around the world – including Israel's own defence community – is that the pact is working…"
In Israel a Netanyahu-supporting newspaper complained the international community had treated the prime minister's information "with derision".
But that was not the case with those in Washington who are believers in taking an aggressive stance with Iran and want to scupper the deal.
Those who were a restraining influence on Mr Trump in his chaotic administration have left one by one and been replaced by ultra-hawks: Rex Tillerson at the State Department by Mike Pompeo, and Lieutenant General HR McMaster as National Security Advisor by John Bolton. General James Mattis and General John Kelly are still there as Defence Secretary and Director of Homeland Security – but the question now is for how much longer?
Mr Pompeo, who had met with Netanyahu in Israel just days before his spectacle, declared that it was proof "beyond any reasonable doubt" that the "Iranian regime was not telling the truth".
John Bolton, the new National Security Advisor, who had, in the past, advocated bombing Iran, spoke of the need for the US and Israel to coordinate on action.
Mr Trump, who had vowed to tear up the agreement when running for the presidency, said he had seen Mr Netanyahu's presentation and the situation "was not acceptable".
Just how bad can it get? Antonio Guterres, the Secretary General of the UN, has warned of a real risk of war unless the agreement is protected.
"It was an important diplomatic victory, we should not scrap it unless we have a good alternative," he said. "We face dangerous times."
It is Mr Bolton's role which will be watched closely as events unfold.
The Vietnam draft dodger has a record of being keen on other people going to war. He remains an avid supporter of the Iraq invasion, which was based on fake dossiers of weapons of mass destruction, and had advocated armed US intervention in a number of countries since.
Shaul Mofatz, a former Israeli defence minister and chief of staff, has revealed how Mr Bolton, when US ambassador to the UN, tried to pressurise him to order air strikes against Iran.
"He tried to convince me that Israel needs to attack Iran", said Mr Mofatz.
"I don't think this is a smart move – not on the part of Americans today or anyone else until the threat is real."
Mr Bolton also has a record of wrecking agreements designed to avert conflicts. He was the undersecretary of state for George W Bush Sr's administration in which capacity he helped tear up the Anti-Ballistic Missile Treaty with the Soviet Union.
He also persuaded Mr Bush to jettison the "Agreed Framework" Bill Clinton's administration achieved with North Korea which had forced it to commit to the nuclear Non-Proliferation Treaty, or NPT, and had put inspectors on the ground to check on infringement.
The result of that agreement ending was North Korea going full steam ahead to develop its nuclear arsenal.
It is a matter of great irony that the House Republicans have now nominated Mr Trump for the Nobel Peace Prize just for a planned meeting with Kim Jong-un while he and his national security advisor sabotage another international agreement.
The first step for that could be on 12 May when Mr Trump can end the waiver on sanctions. Some US sanctions still remain because Mr Trump has failed to certify Iranian compliance with the terms – despite the other signatories holding that Tehran has done so.
But this was done in a way which did not re-impose full sanctions.
If Mr Trump does end the sanctions waiver on 12 May, it will mean that nuclear sanctions on the Central Bank of Iran will lock back into place, affecting all countries which purchase oil from Iran, the country's main export, and also have interaction with the US economy.
The obvious result is that international banks and major financial houses will not be keen to do business with Iran with the threat of punitive American action hanging over them.
There are other deadlines for the JCPOA and the US. The most significant is the day before Friday 13 July when Mr Trump is supposed to visit the UK.
He is due to sign another sanctions waiver on that date. Waiting until then would give the other signatory states another two months to find a solution. It is, however, something they are extremely unlikely to achieve.
The US, by its actions in May or July, will be in breach of the JCPOA.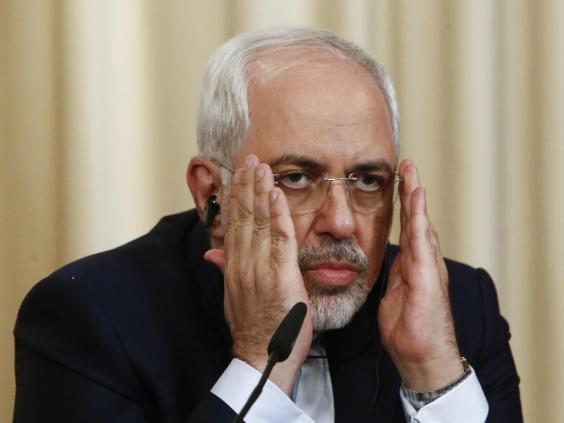 There is a dispute resolution mechanism, Article 36, which can be invoked. But there would be very little to discuss by then as the US position, as long as Mr Trump remains, would seem irrevocable.
The Iranian reaction, with the deal gone, could be to go full throttle to acquire nuclear weapons, as some senior figures in Tehran have stated.
The most immediate move, as a senior official suggested on Wednesday, would be to cut down access by UN inspectors to what is stipulated for member states of the NPT, and raise uranium enrichment to 20 per cent.
Mohammed Javad Zarif, Iran's Foreign Minister and one of the main architects of the JCPOA, has appeared on a video stating: "On 11 occasions the UN nuclear watchdog has confirmed that Iran has implemented all of its obligations. In contrast, the US has consistently violated the agreement, especially by bullying others from doing business with Iran. Let me make it absolutely clear once and for all, we will neither outsource our security nor will we renegotiate or add on to a deal we have already implemented in good faith."
Iran's Message: There is Only One Way Forward, and It's U.S. Compliance; Not Appeasement. #IranDeal https://t.co/CBehxCAv26

— Javad Zarif (@JZarif) May 3, 2018
In the footage, posted on Mr Trump's favourite social network, Twitter, Mr Zarif had a message to the construction business owner-turned US president: "To put it in real-estate terms, when you buy a house and move your family in it or demolish it to build a skyscraper, you cannot come back two years later and renegotiate the price."
But the Iranians should surely know by now that when it comes to Donald Trump, normal rules do not apply.