Syrian state media say US-led coalition aircraft bombed pro-government forces near the border with Iraq on Sunday, leaving a number of people dead.
A military source was cited as saying a position near Albu Kamal, in Deir al-Zour province, was hit.
A monitoring group said warplanes bombed members of Lebanon's Hezbollah movement and other foreign militias, killing almost 40 of them.
But a coalition spokesman denied carrying out any strikes in the area.
Pro-government forces, supported by Russia and Iran, and a US-backed alliance of Kurdish and Arab fighters are both battling Islamic State (IS) militants there.
The two sides normally avoid clashing with each other, but there have been at least two serious incidents in recent months.
In February, dozens of pro-government fighters – many of them Russian mercenaries – were killed in air and artillery strikes carried out by US forces in response to what they said was an attack on their allies' headquarters.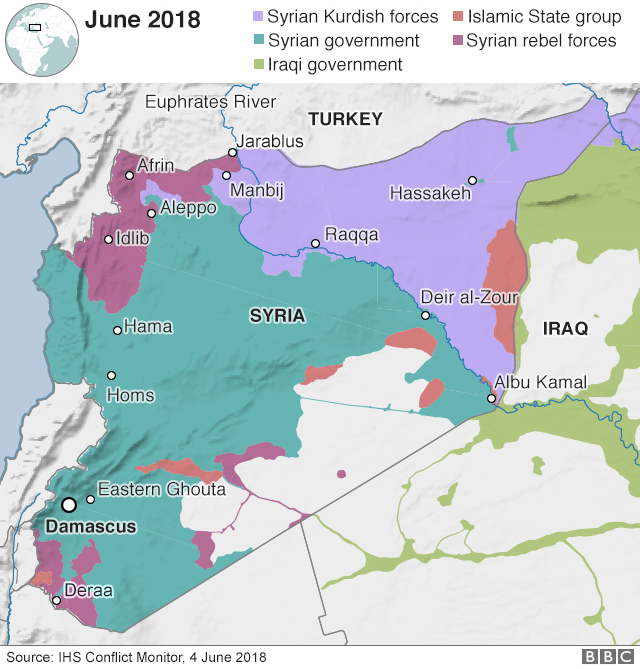 The Syrian military source told the state-run Sana news agency that Sunday's attack targeted one of its positions in al-Huri, a village about 3km (2 miles) south-east of Albu Kamal and 1.5km north-west of the Syrian-Iraqi border.
The source did not give any precise casualty figures, saying only that several people had been killed and others wounded.
The Syrian Observatory for Human Rights, a UK-based monitoring group, said it had documented the deaths of 38 non-Syrian militia fighters, but that it did not know whether they were Iraqi or Lebanese nationals.
A commander in a pro-government alliance meanwhile told Reuters news agency that several Iraqi militiamen had been killed in strikes by drones, "probably American", on positions between Albu Kamal and al-Tanf – an area 230km (145 miles) to the south-west where some US military personnel are based.
A spokesman for the US-led coalition said it was looking into the reports, but insisted that there had been no strikes by its forces in the Albu Kamal area.
Be careful of misinformation: @CJTFOIR did NOT conduct strikes near Abu Kamal west of the Euphrates. #SDF and the #Coalition is focused on #defeatDaesh mission east of the river.

— OIR Spokesman (@OIRSpox) June 18, 2018
Thousands of Shia Muslim militiamen armed, trained and financed by Iran – most of them from Lebanon, but also Iraq, Afghanistan and Yemen – are fighting in Syria.