People in need of medical treatment have been evacuated from the besieged rebel-held Eastern Ghouta area on the outskirts of Syria's capital, Damascus.
Twenty-five patients and their families are believed to have left via a government checkpoint on Wednesday.
Another 31 were evacuated on Tuesday as part of an agreement between a rebel group and the government's ally Russia.
More than 1,100 civilians have been killed since pro-government forces stepped up an offensive a month ago.
In recent days, dramatic advances by soldiers and militiamen have displaced thousands of civilians and cut the enclave into three pockets.
UN Secretary General António Guterres says the estimated 390,000 people trapped there are "living in a hell on earth", forced to shelter from the bombardment in overcrowded basements where access to food, water and sanitation is limited.
How is the evacuation proceeding?
The Syrian American Medical Society (SAMS), which supports a number of medical facilities in the Eastern Ghouta, said on Tuesday that at least 1,034 critically ill and wounded people were in need of medical evacuation. They included 77 "priority cases".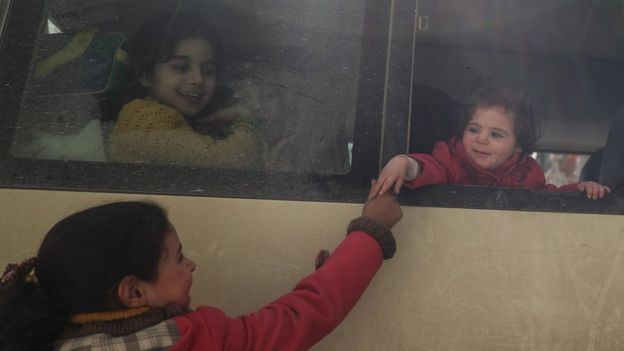 As a result of the agreement between Russia and the rebel group Jaysh al-Islam, which controls the northern pocket around the major town of Douma, at least 55 patients on the list are reported to have left during pauses in the fighting.
"So far the agreement is going well," Yasser Delwan, Jaysh al-Islam's head of political affairs, told Reuters news agency.
Among those evacuated on Wednesday was an 18-year-old boy called Omran, who lost a leg, an arm and an eye in a government attack two years ago, according to AFP news agency.
The Syrian Arab Red Crescent (SARC) and official Sana news agency later posted photos of civilians arriving at the government-controlled al-Wafideen checkpoint. Sana reported that they were then taken to reception centres.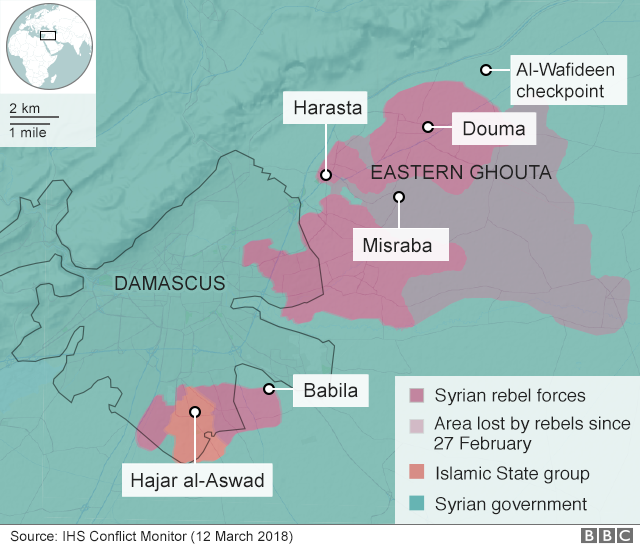 "I hope all people manage to get out," one resident told state TV. "They all wish to get out. But [the rebel fighters] are not letting them out. It is not up to us."
In a separate development, the Syrian Arab Red Crescent said a convoy of 25 lorries would deliver food and medical aid to Douma on Thursday. The convoy would be the second to get into Douma in a week but only the fourth to reach the Eastern Ghouta since November.
"This would be potentially a fairly large convoy with food and hopefully as much as possible of the other material that is in desperate need there, including medical supplies," UN humanitarian adviser Jan Egeland told Reuters news agency.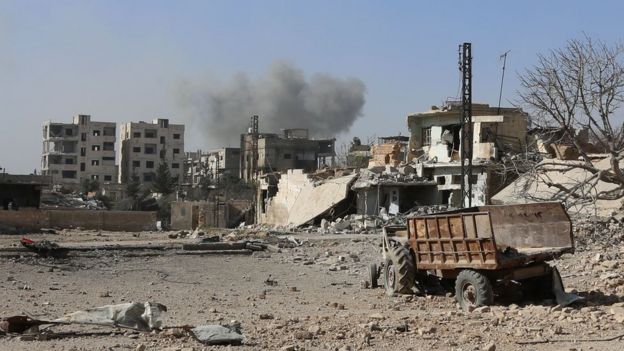 Has the fighting stopped?
No. Elsewhere in the Eastern Ghouta, there were reports of fresh air strikes.
The Syrian Observatory for Human Rights, a UK-based monitoring group, said at least 25 civilians, including three children, had been killed by government and Russian raids on Wednesday.
Aircraft reportedly targeted the towns of Kafr Batna, Saqba and Hamouria, which are in the southern rebel-held pocket controlled by the Faylaq al-Rahman faction. Unlike Jaysh al-Islam, it is not believed to have held talks with Russia.
Mr Egeland said it was not too late to negotiate a pause in the fighting in the southern pocket like in Douma, to stop the "rain of grenades and bullets" on civilians.
The Syrian police meanwhile told Sana that five civilians had been injured by shells fired at government-controlled areas of Damascus by rebels in the Eastern Ghouta.