Dow Jones writer Paulo Trevisani reported yesterday that, "Initial reports from the Pro Farmer crop tour point to disappointing yield potential."
The Dow Jones article noted that, "While yield counts from the eastern portion of the Pro Farmer Midwest Crop Tour are coming in stronger than those from the western leg, crop scouts on the ground are seeing smaller crops than anticipated."
Also yesterday, Bloomberg writers Tarso Veloso Ribeiro and Kim Chipman reported that, "The rough conditions have shriveled crops in the western corn belt. Some scouts were holding out hope that perhaps better acres in the eastern half could salvage the national harvest. Now, that optimism is fading. Instead, there's growing concern over a corn shortage."
"Data collected earlier in the week showed yields in South Dakota, Ohio, Nebraska and Indiana trailing last year's average. The bad news continued on Wednesday with figures showing the same kind of trend for many fields in Illinois, the No. 2 US producer. Preliminary findings in parts of Iowa were also disappointing," the Bloomberg article said.
Ribeiro and Chipman pointed out that, "Corn traded in Chicago rose 0.3% to settle at $6.5725 a bushel on Wednesday, after reaching a two-month high. The price climbed for a sixth straight day, marking the longest rally since February, when Russia's invasion of Ukraine first rattled global grain markets.
"A poor US harvest will likely exacerbate the food inflation that's already been gripping the world. War, drought and the overall impact of climate change have dwindled global grain stockpiles."
Reuters News reported yesterday that, "Bumper U.S. crops are needed to offset low global grain supplies, but extreme heat and widespread drought in parts of the Midwest have hampered fields and a string of troubled crop harvests worldwide are pointing to multiple years of tight supplies and high food costs."
Financial Times writer Alice Hancock reported earlier this week that,
Almost half of the EU remains under drought conditions, an EU agency has said, with the weather set to remain hotter and drier until November.
"This will compound fears about crop shortages and energy supply in a continent already hit by a significant reduction in gas flows from Russia."
The FT article indicated that, "Such extreme lack of water and heat stress to plants has reduced forecasts for this year's summer harvest in Europe, with crops worst affected including maize, sunflowers and soyabeans. Yield forecasts for these crops are between 12 and 16 per cent below the five-year average, the [EU's Joint Research Centre] data showed."
Reuters writer Philip Blenkinsop reported earlier this week that, "Europe is facing its worst drought in at least 500 years, with two-thirds of the continent in a state of alert or warning, reducing inland shipping, electricity production and the yields of certain crops, a European Union agency said on Tuesday.
"The August report of the European Drought Observatory (EDO), overseen by the European Commission, said 47% of Europe is under warning conditions, with clear deficit of soil moisture, and 17% in a state of alert, in which vegetation is affected."
Also this week, Bloomberg writer Jinglu Gu reported that, "The extreme weather hitting China on all points of the compass comes at a pivotal time for the harvest in the world's most populous nation.
"China has largely escaped this year's surge in global food prices due to Russia's invasion of Ukraine. But persistent, searing heat in central and southwestern areas, and flooding in the northeast — all worsened by climate change — now threaten a grain harvest that runs to hundreds of millions of tons, most of which is gathered in the fall."
The Bloomberg article explained that, "The broadest risk is that lost output could raise China's already hefty import needs, adding to intense price pressures in the rest of the world. Global food supplies have been affected by the pandemic and then the war in Ukraine, sending grocery bills skyrocketing in some nations, while scorching conditions from the US Midwest to India continue to threaten crops in the northern hemisphere. China is by far the world's biggest importer of food."
The Associated Press reported earlier this week that, "With China's biggest freshwater lake reduced to just 25% of its usual size by a severe drought, work crews are digging trenches to keep water flowing to one of the country's key rice-growing regions.
"The dramatic decline of Poyang Lake in the landlocked southeastern province of Jiangxi had otherwise cut off irrigation channels to nearby farmlands. The crews, using excavators to dig trenches, only work after dark because of the extreme daytime heat, the official Xinhua News Agency reported.
"A severe heat wave is wreaking havoc across much of southern China."
Brian Spegele reported in today's Wall Street Journal that, "China's government unveiled tens of billions of dollars of economic support for its power and agricultural industries, which have been grappling with a record heat wave and drought that have cut into industrial production.
"The State Council, which serves as China's cabinet, approved 200 billion yuan ($29 billion) in new debt for the country's power generators and an additional 20 billion yuan fighting the drought and aiding the nation's rice harvest."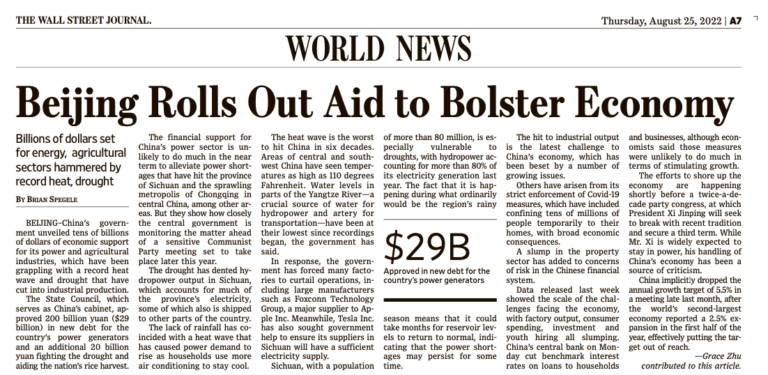 Today's article stated that, "The heat wave is the worst to hit China in six decades."
Meanwhile, Bloomberg writers Megan Durisin, Volodymyr Verbyany, and Aine Quinn reported yesterday that, "The good news is that Ukraine's crucial grain is leaving its ports again. The bad news is that farmland lost to the war and weak local prices are threatening its next wheat harvest.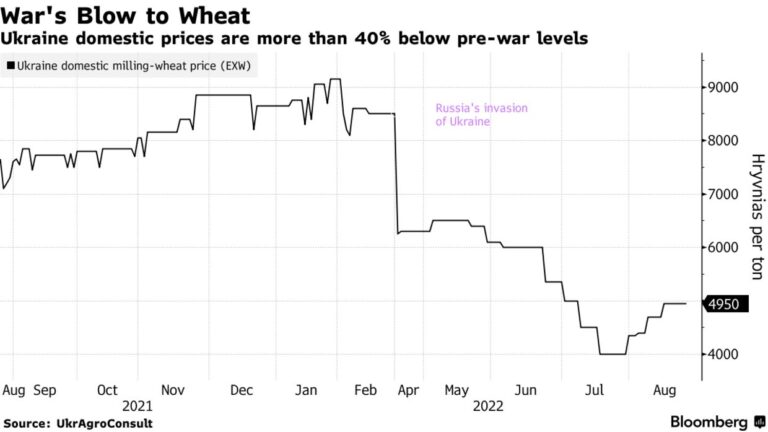 "Ukraine is one of the top wheat growers, so the amount it produces will be key to determining if global supplies stay tight next year and also an important driver of world food prices."
The Bloomberg writers explained that, "Most of Ukraine's wheat consists of winter varieties, which are sown from now and then lie dormant during the coldest months, before resuming growth in spring. Farmers near the western border that's farthest from the front lines are operating more normally, but the situation is more difficult moving east."
The article noted that, "Traders need to clear backlogged crops from the 2021 harvest while also selling this year's crops, keeping local prices subdued.
"That's prompting some growers to switch to more lucrative crops like oilseeds."
"While the newly opened grain-export corridor is helping sales, the pace isn't yet fast enough to significantly bolster wheat prices that remain below growing costs, [Agribusiness Agricom Group CEO Petro Melnyk] said."