The US government has appointed former Los Angeles mayor Eric Garcetti as the new ambassador to India, two years after his name was first announced for the role.
Mr Garcetti, who is a close ally of Joe Biden, was nominated for the post by the US president in 2021.
But his appointment was held up after allegations that he had overlooked accusations of sexual harassment against an aide when he was mayor.
Mr Garcetti denies any wrongdoing.
On Wednesday, the Senate confirmed the appointment of the 52-year-old by a vote of 52-42, though some Democrats expressed their reservations and voted against him.
The US has not had an ambassador to India since January 2021 even though the two countries have strong security and trade ties.
Analysts say Mr Biden is eager to further bolster ties with India – a major trading partner – as Washington tries to tackle its neighbour China's growing influence in the region.
Mr Garcetti's appointment also comes at a time when Russia has become a major irritant between Delhi and Washington. India's neutral stance on Russia's invasion of Ukraine has frustrated the US.
Delhi has not explicitly condemned the war but has talked about the importance of "the UN Charter, international law, and respect for the sovereignty and territorial integrity of states".
India is also the biggest market for Russian military equipment and continues to import huge quantities of crude oil from the country, ignoring bans in the US and parts of Europe.
"The United States-India relationship is extremely important," Senator Chuck Schumer said after a test vote on Wednesday. "It's a very good thing we now have an ambassador."
A graduate of Columbia University, Mr Garcetti was an officer in the US Navy for 12 years before he made his foray into politics.
In 2013, he became the youngest mayor of LA in 100 years and the first Jewish person to be elected for the role. He held the post until 2022.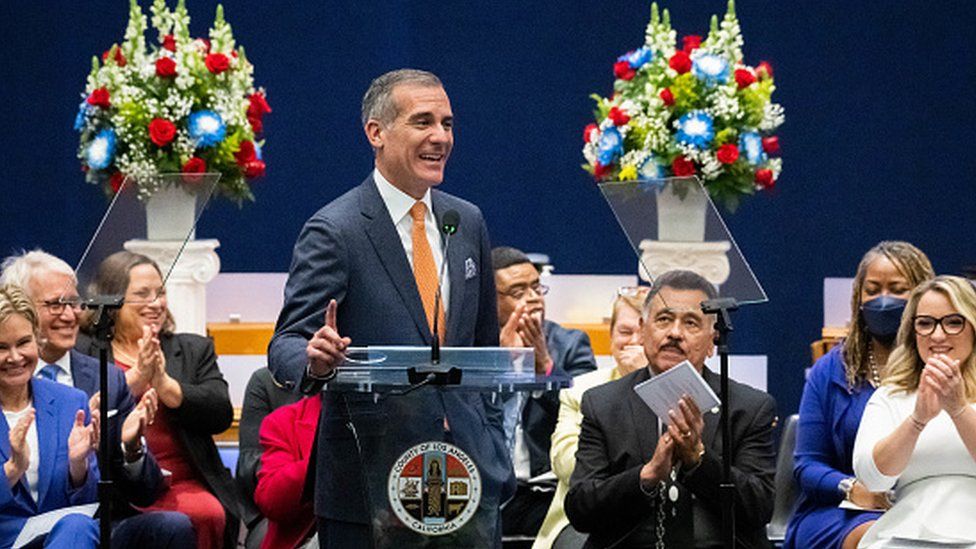 A close aide of Mr Biden, Mr Garcetti also co-chaired his presidential campaign after dropping from the race in 2020.
In July 2021, he was poised for his role as a diplomat when Mr Biden nominated him for the position of ambassador to India.
But last year, a Senate report accused him of ignoring accusations of sexual harassment against one of his close advisers, Rick Jacobs.
The report cited "numerous credible allegations from multiple whistle-blowers" of misconduct by Mr Jacobs and said that it was "more likely than not that Mayor Garcetti either had personal knowledge of the sexual harassment or should have been aware of it".
Mr Garcetti and the White House constantly denied the allegations and in July, Mr Biden renominated him for the position.
After winning the trust vote on Wednesday, Mr Garcetti told the New York Times that he had never considered withdrawing his name from the race.
"I had check-ins with the president, and he was 100% behind me," he added.
Source: British Broadcasting Corporation