A region of unprecedented natural beauty, rich culture and heritage, and warm and welcoming locals, the Middle East is an increasingly popular holiday destination with travelers seeking fun and adventure.
There are several wonderful countries that we enjoy visiting in the Middle East, each with its own unique culture on offer for tourists.
Middle East Highlights
Nature
When thinking about the Middle East, many immediately think of the desert. While this region does have some of the most incredible desert landscapes found globally, there are so many more natural wonders to discover.
There are lush, green forests, snow-capped mountains, massive lakes, extraordinary rivers, and untouched beaches. One of our highlights is the Dead Sea, which boasts health benefits for swimmers. 

Cuisine
The Middle East is famed for its food that bursts with flavor and character, regardless of which country you might be visiting.
Each place has slightly different cuisines and specialties. But common foods include delicious dips, bread, and unique spices. You will be spoiled with a vast array. Some of our favorites include falafel, hummus, flame-grilled meat, and more.
Architecture
The architecture in the Middle East is the definition of 'old meets new'. Many countries in this region have older traditional Islamic buildings and mosques, which are some of the most beautiful designs you will see. However, there has been an emergence of modern architecture in some places within the last decade or two.
In cities like Dubai, Doha, and Abu Dhabi, we find this is most apparent. With some of the world's highest skyscrapers and sleek skylines, you will marvel at the futuristic look of these city centers. 
Top Places To Visit In the Middle East
Highlights of Jordan (Photo Credit: Provided by GAdventures)
Saudi Arabia
The largest country in the Middle East is the majestic Saudi Arabia, which boasts exceptional landscapes and bustling cities.
It has only been open for tourism since 2013, so the country is still relatively untouched and quieter than some of its other Middle Eastern counterparts. This makes it an ideal place to visit if you want to avoid big crowds.
Dubai
Dubai is one of the most popular tourist destinations in the Middle East, and for good reason. Its remarkable architecture and endless activities make it the perfect holiday destination.
There are fantastic beachside resorts to have a seaside getaway, and with world-class malls, waterparks, and shopping souks, we never struggle to find things to do.
Jordan
One of the most underrated spots in the Middle East is the scenic country of Jordan.
With ancient cities and structures, beaches, and reserves, it is a haven for lovers of history and nature. The landscape is unlike anything we have seen before, so this is the ideal place for the adventurous traveler.
Qatar
Qatar is an emerging tourist destination with vast desert landscapes, pristine beaches, and out-of-this-world architecture.
Doha is the hub that attracts most visitors for its coastal location, modern skyscrapers, and endless activities.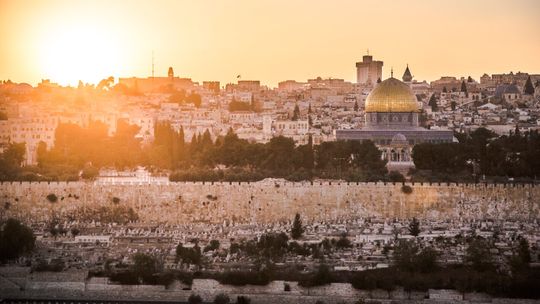 United Arab Emirates
Dubai might be the shining star for tourists in the United Arab Emirates, but we find that there is so much more to explore in the Middle Eastern Country.
Abu Dhabi has quickly become a big attraction for travelers with its modern skyline and rich culture.
Israel
Situated near the Mediterranean Sea and the Red Sea, Israel is a popular place to visit for religious pilgrimages. But its history and architecture have made it desirable for general tourism, too.
Our favorite features include the beautiful beaches, historic and modern architecture, cultural experiences, and delicious local cuisine.
Source : Travel Pulse