The Middle East and North Africa (MENA) is set to feel the full effects of climate change with NGO Greenpeace warning late last year that the region will warm up almost twice as fast as the global average.
From water shortages, to heat extremes and rising sea levels, the region is set to feel the force of increasing global temperatures.
Here are some of the ways different countries and areas are already affected:
Droughts and Water Shortages
One of the latest countries to feel the effects of drought is Tunisia. The North African country is suffering from its fifth continuous year of drought with authorities continuing to ration water.
Spigots are cut off for seven hours from 9 p.m. to 4 a.m. in a state-ordered water rationing in most regions across the country, including the capital Tunis. Authorities have also forbidden the use of potable water for irrigation of farmlands, watering green areas in cities and for cleaning streets and cars.
Those who do not follow water-rationing orders can risk fines or jail, as water levels at almost all of Tunisia's 30-plus dams have fallen drastically, some as low as 17 percent of their storage capacity.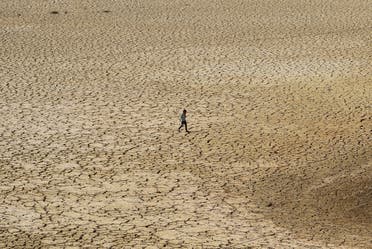 A boy walks on the cracked bed of the Chiba dam in the Nabeul Governorate, as the country battles with a drought, Nabeul, Tunisia April 1, 2023. (Reuters)
The UN body that deals with climate change – the IPCC – projects that through the twenty-first century the North Africa and the east Mediterranean region will become increasingly dry as the region can expect less rainfall in the future.
Egypt is also facing an annual water deficit of around 7 billion cubic meters and could run out of water by 2025, according to Rome-based media agency the Inter Press Service.
Iraq is also facing a water crisis, and one that is expected to continue – led in part by ongoing drought, according the UN's International Organization for Migration (IOM).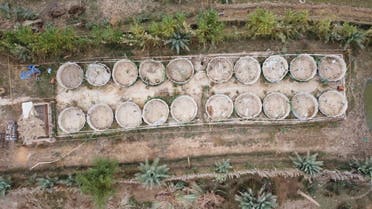 A view shows a dried up fish pond on the Euphrates river in Najaf, Iraq November 28, 2022. (Reuters)
The impact of climate change, rising temperatures and the diversion of river water is most acutely felt in Iraq's southern governorates, like Missan. In Missan's AL-Hadam community, residents often struggle to get adequate water for use in their home, the IOM said earlier this month.
Agriculture and Farming
Water shortages and drought are having a knock-on effect in the region on countries' ability to cultivate crops for both consuming and selling.
Drought in Morocco is ravaging the country's soon-to-be harvested wheat crop and raising the prospect of needs to import higher quantities of wheat, Gro Intelligence which collates date on agriculture and climate change said in April.
So far this year, precipitation in Morocco's rainfall-dependent wheat growing areas has been 44 percent below the 10-year average, Gro Intelligence said.
In 2022, Morocco's wheat imports surged as dry growing conditions slashed its wheat yields by 60 percent year-on-year.
Jordan is also one of the world's most water-scarce nations, with as little as 100 m3 of water available per person every year, according to UNICEF. Rising temperatures, reduced rainfall and limited vegetation are behind the shortage. A rapidly increasing population is also pushing the nation's available water resources to the limit.
Rising Sea Levels
Countries across the region are suffering from drought and water shortages, rising sea levels – driven by melting polar ice caps and the expansion of sea water as it warms.
As many as 410 million people could be vulnerable to rising sea levels by the end of the century, according to the World Economic Forum, a problem that could have just as much of an effect on agriculture and crop production as drought.
In Egypt, rising water levels at the Nile delta could have a detrimental effect on the country's food production.
The Nile delta is home to some 40 percent of Egypt's 104 million people and accounts for half of the country's economy, according to the UN food agency.
Farms and fisheries along the two Nile branches, Rosetta in the west and Damietta in the east, help feed the country and provide products for export.
But a quarter of the Delta sits below sea level and increase in water between as little as half a meter and meter could shift the coastline in by several kilometers, according to a recent report by an international group of scientists overseen by the Cyprus Institute's Climate and Atmosphere Research Center and the Max Planck Institute for Chemistry.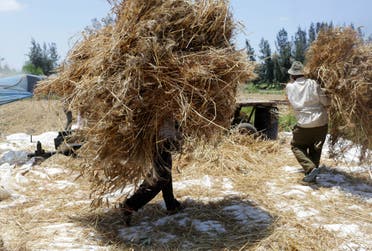 Workers carry grain stocks to a threshing machine as they harvest wheat crop in 6 October village in the Nile Delta province of Al-Baheira, northwest of Cairo May 22, 2014. (Reuters)
Indeed, seven percent of the MENA's total population lives in areas under five meters above sea level, including major urban metropolises such as Alexandria in Egypt and Basra in Iraq, according to the Wilson Center.
Key regional industries, including tourism, fishing, agriculture and trade, are predicted to be affected by sea level rise and, like drought, will likely contribute to large-scale domestic and international migration, the US-based research body said.
Heat Extremes
Extreme temperatures are another effect of climate change across the MENA region.
The average annual heat-related death rate across all MENA countries is currently 2.1 per 100,000 people, the Lancet Journal said in a report in April. But this could rise to a high of 123.4 per 100,000 people by 2100 if temperature rises become extreme.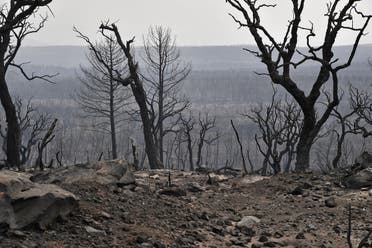 A picture shows a burnt forest following raging fires in Algeria's city of el-Kala on August 18, 2022. (AFP)
In August 2021, Algeria saw more than 100 forest fires that killed 90 people and destroyed more than 10,000 hectares of land and forest, according to Greenpeace.
In June 2021, fires destroyed more than 5,000 hectares of forest in Tunisia, and at least 7,500 hectares of land in Lebanon.
Source : Alarabiya