After the sound and fury of Monday's mass protests around Israel's parliament, the Knesset, Jerusalem is calm.
In Sacher Park, a protest camp since the weekend, the tents have gone, leaving flocks of hooded crows to peck over piles of rubbish.
At the busy junction just above the Supreme Court, scene of a noisy standoff late into the night, traces linger of the evil smelling "skunk" water, which police fired at protesters in a vain effort to disperse the crowds.
But under the fierce summer sun, traffic flows once more and all seems normal.
After months of a simmering political crisis, Monday felt like an inflection point, full of furious rhetoric and deeply felt emotion.
What happens next?
"We are taking a deep breath and looking forward," says Shikma Bressler, founder of the Black Flag, one of several groups involved in this year's mass protests against the government's proposed judicial reforms.
"Yesterday, we lost the battle," the renowned physicist tells me.
"But we have started a movement, a huge crowd of people that were not aware of each other and their strengths. Now we need to realise how to use them."
For months, the protest movement thwarted Benjamin Netanyahu's efforts to limit the Supreme Court's authority.
But by changing tack and focussing on a single issue – the so-called "reasonableness standard" – the government on Monday scored a tactical win.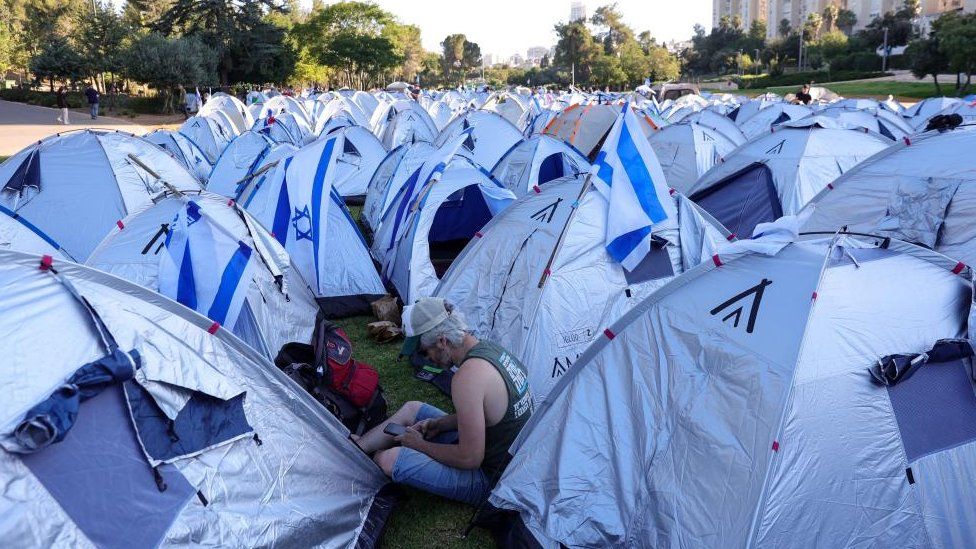 No longer will Supreme Court justices be able to argue that the government's actions are unreasonable.
The prime minister's opponents fear that this is just the start, that other actions to erode the Court's influence will inevitably follow.
These could include giving the Knesset the power to override Supreme Court rulings, and changes to the way judges are selected.
On Monday night, in a prime time address, Mr Netanyahu said the reforms represented "a necessary democratic move… aimed at restoring a degree of balance between the branches of government".
He called for dialogue, but indicated a determination to press ahead with the reforms after the Knesset's summer recess, which begins later this week.
To opponents like Shikma Bressler, the reforms being promoted by the most right-wing government in Israel's history constitute a dangerous slide towards "a sort of racist, extremist dictatorship".
The last six months, she says, have been a learning experience.
Few would have known what the "reasonableness standard" even was, until recently.
"The Israeli population has gone through an amazing, advanced course in law and democracy, and the way our structure works."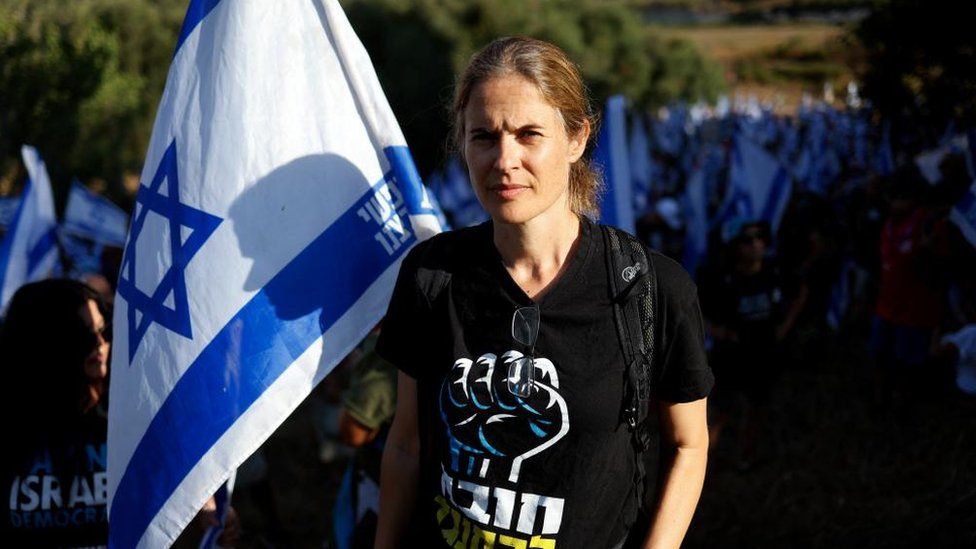 As a result, she says, Israel has gone from "pluralistic ignorance to pluralistic confidence".
But turning that into a strategy, she admits, is not going to be easy.
There will be legal challenges, for sure. Some of them involving appeals to the very court whose powers Mr Netanyahu seems determined to curtail.
But Ms Bressler says it is also vital to keep people on the streets, to show solidarity with anyone – soldiers, police officers, judges – taking a stand against the government.
"So they know that when they come to take those decisions, they are backed up by the vast majority of Israelis."
Thousands of reservists have already signed petitions, vowing not to show up for volunteer military service.
What the petitions mean in practice, in a country where military service is deeply ingrained, is not clear. Some reservists serve as pilots, intelligence officers or in Israel's special forces.
Adam Schacham, a 27-year old former soldier, is among those who have signed a petition.
"When I do reserve duty I train the next generation of our fighters," he told me at Monday night's protest.
"I will not be doing that, so they won't be as good. And I'm terribly sorry."
On Sunday, the Institute for National Security Studies warned that the government's judicial reforms could lead to the "complete collapse of the reserve system".
The fear that defiance might spill over into regular units is also causing ripples of alarm.
Mr Netanyahu warned reservists to "leave service in the IDF [Israel Defense Forces] out of the political debate".
Adam says he wanted Israel to "hurt for a while", if that helped to stop the legislation, but insisted the protests will remain non-violent.
As a proud Israeli, his protest also comes with an important caveat.
"If push comes to shove and the country is really threatened, we will all show up and there will be no argument whatsoever," he says, adding that all his friends in the reserves feel the same way.
"And the moment we are safe again, we will keep quarrelling and fighting for what we believe is our democracy."
Source : BBC