Lebanon's central bank governor Riad Salameh is about to step down from the top job after 30 years. But he leaves behind an economy in a state of collapse, and a country in the grip of one of the world's worst financial crises, as BBC News Middle East correspondent Anna Foster reports from Beirut.
It is hard to tell exactly what is inside the bottle that Omar Aawah holds up to the camera. But in the grainy viral video, he makes his situation crystal clear. This is a hold-up at Omar's bank, and he's mixed his own home-made acid to threaten the staff into handing over money.
"I spilled some drops on a calculator and on the floor to show the acid was for real, it bubbled and boiled," he told me.
But Omar was not there to steal other people's money – he only wanted to take back his own.
"I just want what is rightfully mine," he says in the video. "I don't want to hurt anybody."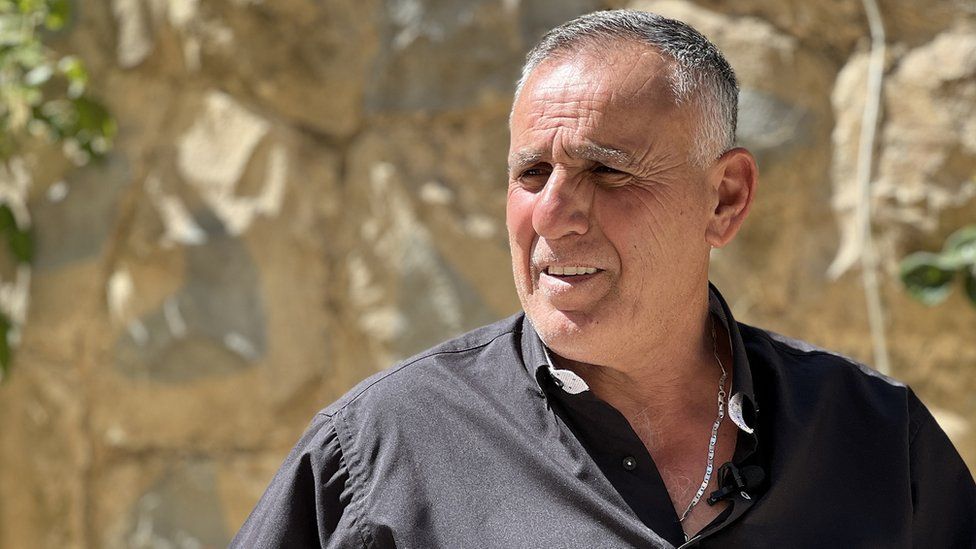 Omar's savings were locked in the bank, now worth just a fraction of their real value, and it is the same for depositors across Lebanon.
Since the financial crisis began here, people's access to their money has been extremely limited. If they want to withdraw US dollars, it is at an exchange rate so small it's almost worthless.
Omar's own deposits from a lifetime of work have shrunk so much that he has lost more than 80% of his life savings. After the hold-up he leaves triumphant with all that remains – $6,500.
He will use it to pay for vital neck surgery. Doctors say that without it, he could be left paralysed.
It is a devastating situation for the millions of Lebanese who have lost access to their money. But the rise of bank robberies is a huge problem too – even though the term "robbery" doesn't accurately reflect what depositors are trying to do. They are simply trying to get their own money, but threats of force are frightening for the bank staff who have little responsibility for the wider problems.
"Did you think about what this would be like for them?" I asked Omar directly.
"They're like my sisters and brothers and I'll apologise to them now," he replies. "I never intended harm to any of them. But I also wish for them to understand my situation and where I'm coming from."
So how does Omar's predicament relate to Riad Salameh, one of the world's longest-serving central bank governors?
Along with Lebanon's political class, Mr Salameh has been blamed for the large-scale financial mismanagement that caused many of these problems.
During his time at the helm of the Banque du Liban, he has been accused of running a huge Ponzi scheme – borrowing new money to pay existing creditors – until the economy started to collapse.
When we sat down at the bank for a rare interview, Mr Salameh was adamant that responsibility for Lebanon's financial problems lay outside his control.
"The governor of a central bank is not a standalone person, there is a central council that takes the decision. And the governor implements these decisions. So this is a misrepresentation, when everything is linked to the personality of the governor," he says.
"In all the central banks of this world, there is no one-man show."
The facts make for difficult reading. Lebanon is in a dire financial state. Its currency has lost 98% of its value, and inflation is in triple figures.
The International Monetary Fund (IMF) points to a GDP that has contracted by 40%, and a central bank whose foreign currency reserves have been drained by around two-thirds.
'We don't know where the money went'
As Riad Salameh prepares to stand down as the central bank's governor after 30 years, he is being investigated by at least seven countries, including Lebanon, for embezzlement and illicit enrichment. It is claimed he laundered more than $300m (£229m). He says he did not.
"I have presented audited statements on my personal accounts showing that all my wealth is from my personal work that I did for 20 years in the private sector," he says. "The audited accounts of the central bank showed that there was no money at any time coming from the central bank to my account."
But the accusations against him are substantial, and varied. In Germany and France, assets have been seized and arrest warrants issued for Mr Salameh. The authorities in Switzerland are probing whether he and his brother Raja illegally took hundreds of millions of dollars from the central bank over the course of a decade. Both brothers deny any wrongdoing.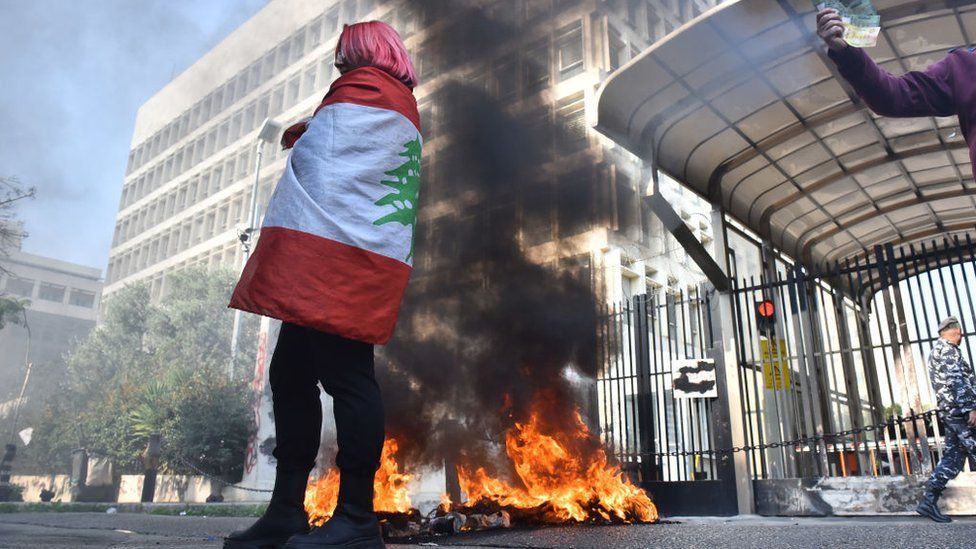 There are active investigations in Luxembourg, Monaco and Belgium. In the UK, where Mr Salameh holds substantial assets, neither the Serious Fraud Office nor the National Crime Agency would comment, although sources say that his affairs are being looked into.
The Swiss NGO, Accountability Now, has been researching Riad Salameh for several years and has filed criminal complaints in multiple countries.
"Prosecutors in Europe have used the term 'aggravated', which meant that Mr Salameh is suspected of belonging to a criminal organisation," says Zena Wakim, president of Accountability Now's board. "And that was a big thing to have a governor of a central bank being suspected by European prosecutors of belonging to a criminal organisation. That's a first."
She also questions where international aid that was destined for Lebanon's needy has ended up. The UN's children's charity, Unicef, says nearly nine in 10 households cannot now afford basic essentials. There have been ongoing problems with lack of electricity, medicines, fuel and food.
"Over the last five years, $5bn of international aid has poured into Lebanon, even more so after the big port explosion [of 2020]. We don't know where this money went. That money was destined for the population. Corruption is the root cause basically of everything that has happened in Lebanon since the end of the civil war [in 1990]."
I asked Riad Salameh if he would submit to further questioning by the authorities in France. His failure to appear led to the issuance of an international arrest warrant against him.
This, he says, is down to a breakdown in communication, because his lawyer was not properly notified.
But I ask why, when he knew that they wanted to question him, he did not go as soon as possible to co-operate and clear his name? My repeated attempts for clarity on the point are not well received.
"My lawyer, in writing, has advised the judge that I want to go to France. Please give us a date for us to come," is his final reply.
He says he will fly to Paris for questioning in August, once his term as governor has expired. But it remains to be seen whether that will really happen.
Outside the central bank building, spray-painted graffiti leaves passers-by in no doubt about the simmering public anger towards the banks and the people who run them.
Attempts have been made to cover it over, but some of the obscenities can still be read.
One thing is certain, Riad Salameh's departure from the top job at the central bank will not mark an end to Lebanon's economic crisis. With no successor yet named, and no real solutions in sight, public anger towards the banks in Lebanon will only keep growing.
Source : BBC