On Wednesday morning, the people of al-Sharif lined the main street, forming a guard of honour for the ambulances making their way to the village cemetery. This community in northern Egypt is almost 560 miles (900km) away from Derna, the Libyan city at the centre of this week's floods, but it has been devastated by the disaster.
Seventy-four people from al-Sharif, all of them men between the ages of 18 and 30, are known to have lost their lives in the floods. They were working in Libya in the hope of making some money to build a better life back home.
As we walk through al-Sharif, house after house is holding a mourning ceremony.
Many of the dead and missing are from the same family. The al-Dabaa family, one of the largest in al-Sharif, is mourning the loss of 16 people.
"My three sons, all in their 20s, died," says Jumaa al-Sayyid, a 50-year-old farmer, struggling to fight back the tears.
The young men had travelled to Libya illegally and Jumaa himself had helped them raise the money for the journey.
"Now I wish I had never done it," he adds.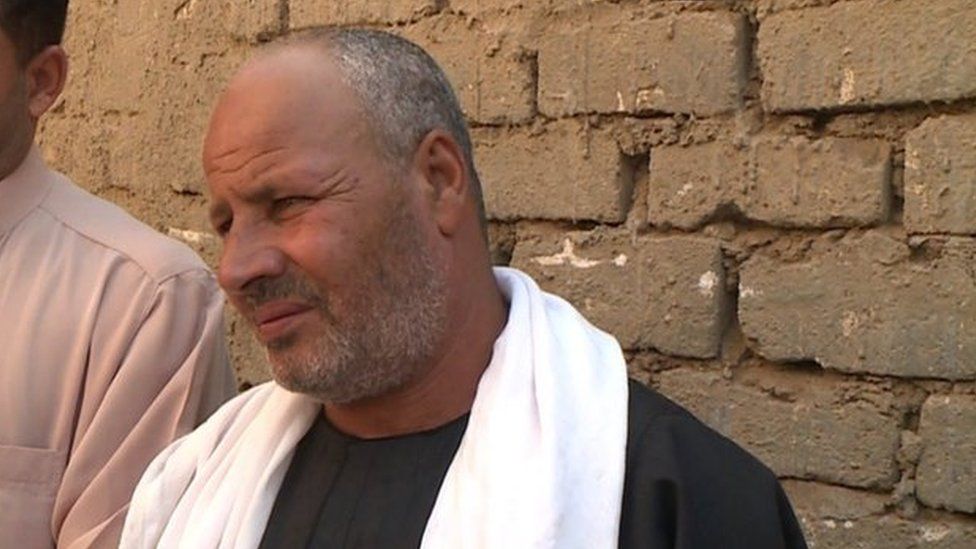 In a nearby house, Fatima Muhammad is also mourning the loss of three young sons who were in their 20s. They left behind wives and five children that Fatima, a widow who also works as a farmer, will now help to raise.
In tears, she tells the BBC that she had refused to believe the news of her sons' deaths until she saw their bodies. "I buried them side by side, like seeds in a field," she says.
The people here are afraid that that even more have died – another 100 people from the village who were living in Derna are still unaccounted for.
One person praying for news is Raya Faisal. She lost contact with her two sons, Ahmed and Mohammed, after communications with Derna were cut off in Storm Daniel.
"I beg to God that my boys are still alive," she says. "What will happen to me if they are really gone?"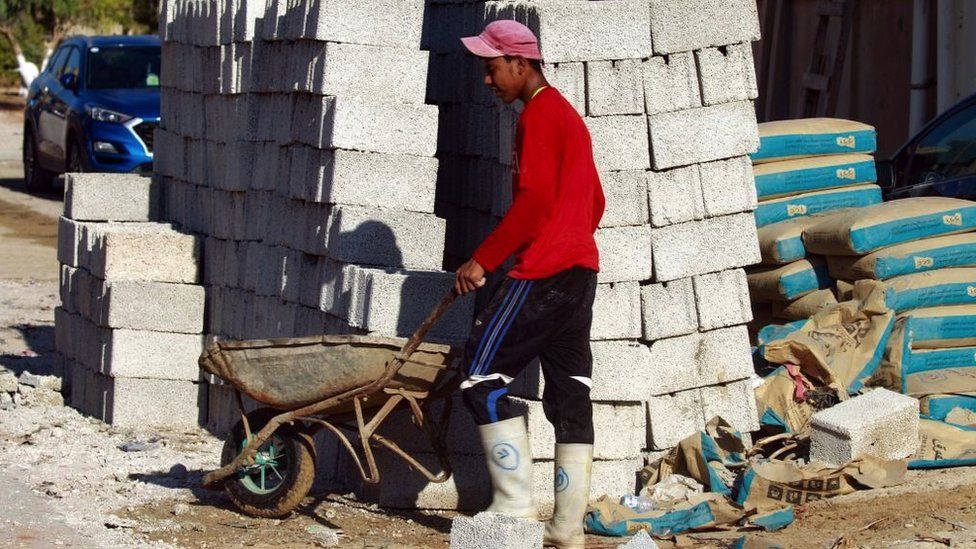 It is easy to understand why, according to locals, thousands of young men from the village are currently in Libya, mainly working in the construction sector. Al-Sharif is located in Beni Suef, one of the most deprived regions of a country in which almost 30% of the population live in poverty. The rate in Beni Suef is over 60%, according to Egypt's Central Agency for Public Mobilisation and Statistics.
Over the past few decades, Egyptians have become one of the largest groups of migrant workers in oil-rich Libya. Figures from the UN's International Organization for Migration (IOM) suggest that there are more than 140,000 of them there, despite Libya's descent into chaos after the uprising of 2011 and the death of former ruler Muammar Gaddafi.
Libya is now a fragile state split between two rival governments and the ever-present threat of an escalation in violence.
"My sons needed jobs with reasonable wages so they could help their families, even if they had to go to a country under the threat of a war," says Jumaa al-Sayyid
A Ministry of Social Solidarity spokesperson told the BBC that the government is trying to find out exactly how many Egyptians died in the floods so they can provide financial compensation to their families
Source : bbc