The British Defense Ministry said Saturday in its daily intelligence update on Russia's invasion of Ukraine that it is not in Russia's best interests to block any Ukraine-bound trade on the Black Sea.
Russia's Black Sea Fleet capabilities remain "largely intact," the update said, but the possible risk of military losses and "the dire political consequences" of Russia attacking merchant shipping "would highly likely outweigh" any gain from a blockade on Ukrainian bound trade.
The White House on Friday accused North Korea of shipping weapons to Russia, near the Ukraine border. Its claims are based on an image released Friday showing a shipment from an ammunition depot in North Korea, or DPRK, that was loaded onto a Russian-flagged ship before being moved by rail to a depot along Russia's southwestern border. The delivery took place between Sept. 7 and Oct. 1, the U.S. says.
"We condemn the DPRK for providing Russia with this military equipment, which will be used to attack Ukrainian cities, kill Ukrainian civilian and further Russia's illegitimate war," National Security Council Director of Strategic Communications John Kirby said Friday.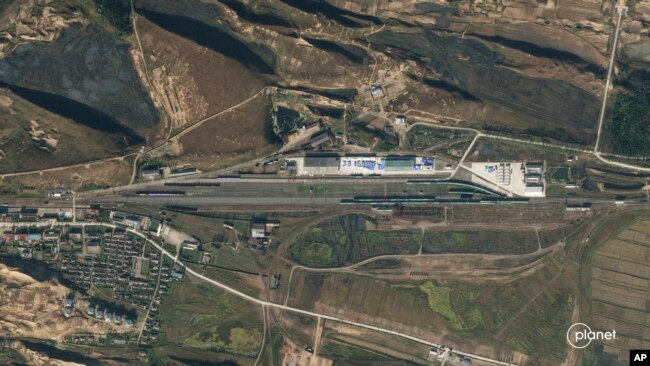 Kirby has disclosed that in recent weeks, North Korea has provided Russia with "more than 1,000 containers of military equipment and munitions."
He said that the U.S. believes Kim Jong Un is seeking sophisticated Russian weapons technologies in return for the munitions — to boost North Korea's military and nuclear program.
"This expanding military partnership between the DPRK and Russia, including any technology transfers from Russia to the DPRK, undermines regional stability and the global nonproliferation regime," Kirby warned.
He noted that Washington is in lockstep with allies and partners to counter arms deals between Russia and North Korea by sanctioning individuals and entities working to facilitate such arms deals.
"We will not allow the DPRK to aid Russia's war machine in secret, and the world should know about the support that Russia may again provide the DPRK in return," Kirby said.
North Korea on Friday lambasted the arrival of a U.S. aircraft carrier battle group in South Korea, calling it "an undisguised military provocation" and proof that the U.S. plans an attack against it. North Korea threatened to respond in line with its escalatory nuclear doctrine that authorizes the preemptive use of nuclear weapons.
The U.S. has accused North Korea of previously providing ammunition, artillery shells and rockets to Russia. North Korea has previously denied providing weaponry to Moscow.
Targeting Odesa
Earlier, Ukrainian President Volodymyr Zelenskyy and Dutch Prime Minister Mark Rutte, during a visit to the Black Sea port of Odesa, pledged to bolster Ukraine's air defenses and to increase the security of a "humanitarian corridor" for grain exports.
Zelenskyy said Kyiv was working to strengthen its position in the Black Sea so that it can continue grain exports, which are a vital source of revenue for Ukraine's defense spending following Russia's invasion last year.
"We are working with partners to protect properly these corridors, and strengthen our positions in the Black Sea, and it also applies to the protection of Odesa's skies and in the region as a whole," Zelenskyy said.
The Odesa region has become a frequent target of Russian missile and drone attacks.
Russia has hit six civilian ships, 150 port and grain facilities and destroyed upwards of 300,000 tons of grain since Moscow quit a deal allowing safe Black Sea exports of Ukrainian grain, the Kyiv government said on Friday.
In a statement, it said 21 vessels already had been loaded with grain for exports and used a new "humanitarian" grain corridor in the Black Sea announced by Kyiv in August. It said a total of 25 ships had entered Ukrainian ports for loading.
The Netherlands will deliver more Patriot air defense missiles to Ukraine to help the country defend itself against Russian airstrikes during the winter, Rutte said Friday.
"This winter, Russia will try to hurt Ukraine as much as possible. So, the Netherlands will supply extra Patriot missiles, so that Ukraine can defend itself against Russia's barbaric airstrikes," Rutte said in Odesa.
Rutte also said the Netherlands would help Ukraine acquire patrol boats to keep the shipping route for grain exports safe.
Funding the effort
European Union leaders meeting later in October will demand "decisive progress" on using Russian assets frozen by sanctions to help Ukraine, according to their draft statement, addressing a matter that has been stuck for months.
The United States and Britain last month showed support for an EU plan to tax windfall profits generated by frozen Russian sovereign assets to finance Ukraine as Kyiv battles a full-scale Russian invasion begun in February 2022.
Finance ministers of the Group of Seven, or G7, industrialized countries meeting in Morocco on Thursday estimated $280 billion worth of such assets had been frozen. They said they expected more work in the coming months to find legally sound ways of using them to aid Ukraine.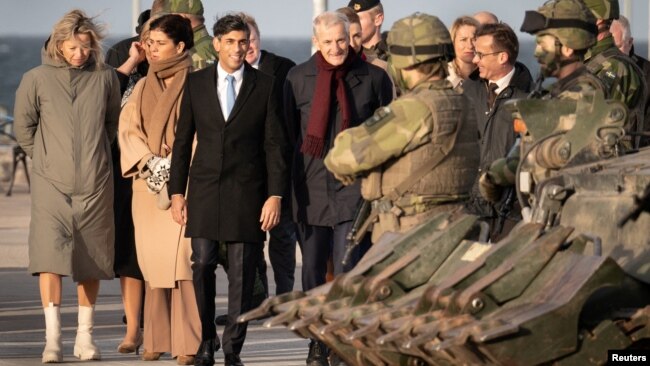 Belgium, not a member of the G7 group, where most frozen Russian central bank assets are held, said it expects to collect $2.4 billion in taxes on the assets and use them to help Ukraine's reconstruction process, a spokesperson for Belgium's prime minister said Wednesday.
Britain is planning to increase its military presence in northern Europe, including deploying 20,000 troops to the region next year, to help protect critical infrastructure at a time of growing concern over Russian sabotage.
British Prime Minister Rishi Sunak earlier on Friday met fellow leaders as part of the Joint Expeditionary Force, or JEF, defense cooperation summit on the Swedish island of Gotland in the Baltic Sea.
JEF, a defense cooperation group between the Nordic and Baltic states, the Netherlands and Britain, was meeting days after a pipeline and a data cable in the Gulf of Finland were damaged due to "outside activity," stoking concerns about security in the wider Nordic region.
"This week, we have seen yet again that our security cannot be taken for granted. It is vital that we stand united against those with malign intent," Sunak said in a statement.
Source : VOA