Saudi Arabia has taken another step forward in making it easier to visit the country. This week marks the launch of a new, free-of-charge four-day stopover transit visa for air travelers.
The new program, which is detailed on the SAUDIA website, allows travelers to book an international flight with a stopover of up to 96 hours in the country, during which visitors can perform Umrah and the Prophet's Mosque, as well as explore tourist and historic attractions. Making the entire process even easier, the stopover visa, which is issued by the Ministry of Foreign Affairs of the Kingdom of Saudi Arabia, can be obtained immediately during the booking process.
As part of the new program, travelers will also be offered free hotel accommodations for one night.
In order to obtain the stopover visa travelers must book flights through specific digital channels, which include the SAUDIA or Flynas websites. In addition, travelers must have a recognized passport that does not include any restrictions or conditions and the passport must be valid for at least six months.
The stopover visa is valid for three months from the time it is secured. And once in Saudi Arabia, the stopover cannot be extended beyond 96 hours.
The new program is part of Saudi Arabia's Vision 2030 efforts, which is a strategic framework to reduce the country's dependence on oil and diversify its economy, including enhancing its tourism sector. The country issued its first tourist visa in 2019.
Saudi Arabia is home to two of the holiest cities, Makkah and Medinam, which play a central role in the Muslim faith. While Makkah and parts of Medina are accessible only to Muslims, there are many mosques in the kingdom that are open to and welcome visitors of all faiths.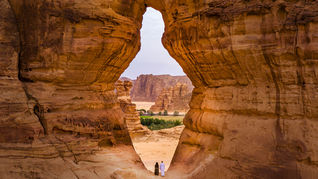 These include Al Rahma Mosque-also known by its nickname the Floating Mosque-which is linked to the fact that the structure juts out into the Red Sea and is perched atop a stack of white concrete stilts. The KAFD Grand Mosque, meanwhile, is a modern masterpiece that was constructed in 2017. It is considered one of the architectural centerpieces of the King Abdullah Financial District in Riyadh, Saudi Arabia.
The ruins of AlUla are yet another popular tourist stop. Located in the northwest corner of the country, the area includes rock formations and the remains of ancient kingdoms. The most famous of these are Mada'in Saleh, which includes some 2,000-year-old Nabatean tombs.
These are just a few of the highlights of visiting Saudi Arabia. The complete guide to booking a stopover visa is outlined on the SAUDIA website here.
Source : Travel Pulse