Russia has threatened to end UN cross-border aid deliveries to millions of people in rebel-held north-west Syria, after the Security Council failed to pass two resolutions authorising them.
Russia, an ally of Syria's government, vetoed a nine-month extension for the use of the Bab al-Hawa crossing that 13 of the 15 other council members backed.
But it was then unable to muster enough votes for its proposal of six months.
The US accused Russia of "an act of utter cruelty".
Hundreds of lorries pass through Bab al-Hawa from Turkey every month with aid for 2.7 million civilians, who rely on it for food, shelter and healthcare.
The lifeline has become even more important since a devastating earthquake struck the region in February, killing more than 4,500 people and displacing 50,000 families.
Although the Security Council decision means the UN must immediately stop aid deliveries through Bab al-Hawa, it will be able to continue until 13 August to use two additional border crossings that were opened with the consent of the Syrian government following the earthquake.
The UN said its agencies had also pre-positioned supplies on the ground in north-western Syria to ensure the humanitarian needs would continue to be met for the time being.
Some 4.5 million people – almost three-quarters of them children and women – are trapped in north-western Syria, which is the last stronghold of the jihadist groups and Turkish-backed rebel factions fighting President Bashar al-Assad's government after 12 years of civil war.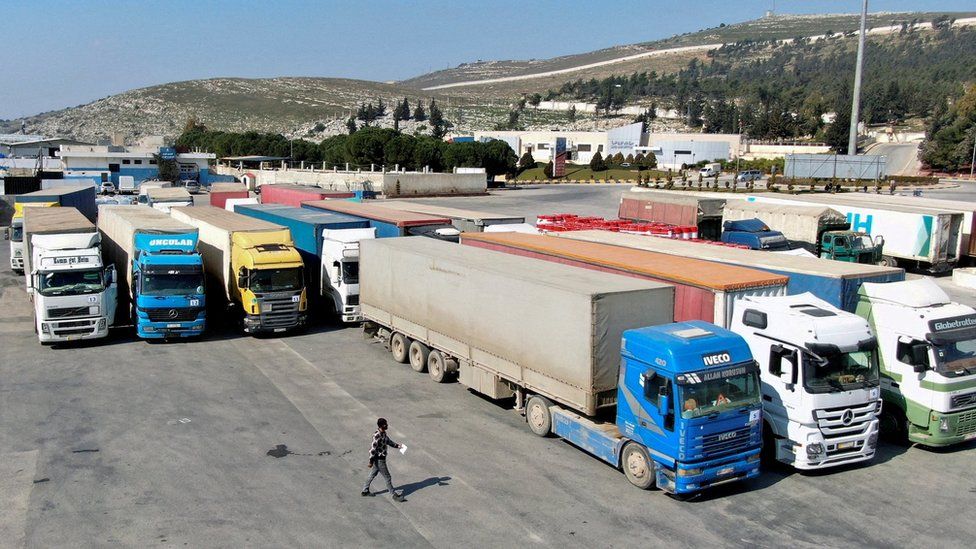 The Security Council first authorised UN cross-border aid deliveries into areas of Syria outside the government's control without its consent in 2014.
But in 2020, Russia and China used their veto powers as permanent council members to stop deliveries via Jordan and Iraq, as well as the Bab al-Salameh crossing with Turkey.
They argued that the operation violated Syria's sovereignty and territorial integrity, and that the aid should cross the front lines via government-controlled territory. That left Bab al-Hawa as the UN's only option to reach people in the north-west.
Since then, its use has been reauthorised every six or 12 months by the Security Council following a series of last-minute compromises negotiated by Russia and Western powers, which have supported the Syrian opposition during the war.
On Tuesday, Russia used its veto to block another compromise resolution drafted by Brazil and Switzerland that would have extended the cross-border mechanism for nine months, covering the winter and allowing aid agencies to better plan operations. All the other council members voted in favour apart from China, which abstained.
Only Russia and China voted in favour of the Russian proposal for a six-month extension. The US, UK and France voted against it and 10 members abstained.
After using its veto and before the second vote, Russia's permanent representative Vassily Nebenzia warned the council: "If our draft is not supported, then we can just go ahead and close down the cross-border mechanism."
"The technical rollover, for any period of time, we're not going to accept."
His US counterpart, Linda Thomas-Greenfield, said the veto was a "sad moment for the Syrian people" and that Russia had acted like "a bully in the playground – my way or the highway".
"We cannot accept this obstruction. We must keep at this. The Syrian people are counting on us and we must all urge Russia to come back to the table in good faith," she added.
A spokesman for UN Secretary General Antonio Guterres said he was "disappointed" that council members could not reach an agreement and urged them to "redouble their efforts to support the continued delivery of cross-border assistance to millions of people in dire need".
International Rescue Committee CEO David Miliband condemned Russia's veto, saying: "It defies reason and principle, that Security Council members would vote to not maintain all avenues of aid access for vulnerable Syrians at this time."
Source : BBC