The United States Special Envoy to Northern Ireland, Joe Kennedy, has said he should be judged on what he achieves and not his family ties.
Mr Kennedy said it was a great honour to be given the job and he looked forward to engaging with everyone.
He confirmed he met all five Stormont party leaders in Washington DC.
Mr Kennedy said the upcoming presidential visit to Northern Ireland would help "galvanise momentum" when it comes to attracting new investment.
In his first interview since taking up the post in December, he said he had "grown up in a family which is well known and I have dealt with that all my life".
He is a grandson of US Senator Robert F Kennedy and a grandnephew of President John F Kennedy.
"There are incredible benefits which come with that but there are challenges which come with that too," he told BBC News NI.
"All I can ask anybody is judge me on my actions and not on what you heard.
"But take me on my word on what I have been asked to do by the president of the United States to ensure opportunities and growth are felt by every community across Northern Ireland.
"To delicate myself to do that and to reach a good hand of partnership across all the political leadership."
Telling a Kennedy to steer clear of politics is like the telling the rest of us to avoid breathing – it is impossible.
But that is the task facing the new US Special Envoy to Northern Ireland, Joe Kennedy III.
His job is to sell Northern Ireland to big US investors and bring some much needed employment.
But he has to do that while tip toeing around our political minefield.
That will surely go against Joe Kennedy's DNA, coming from one of America's best known political dynasties.
He said in his role he would be focused on issues that mattered to both communities in Northern Ireland and he would stay clear of politics.
"What I've been asked to do is focus on the parts that unite us across communities – which are issues about if your kids are in a good school, if you've got enough food to eat, you've got a good job," he said.
"That's not a political issue, that's a human one.
"What I've been asked to do is channel my efforts and the efforts of this government to address those concerns cross-community and make sure the investment that does come is shared."
Asked if he would be accompanying President Joe Biden on his visit to Northern Ireland, he said there would be "plenty of competition to be on his shoulder".
The visit will mark the 25th anniversary of the Good Friday Agreement, the deal which ended the worst of 30 years of violence in Northern Ireland.
"The message will not just be about celebrating the last 25 years but what the next 25 years should be," he said.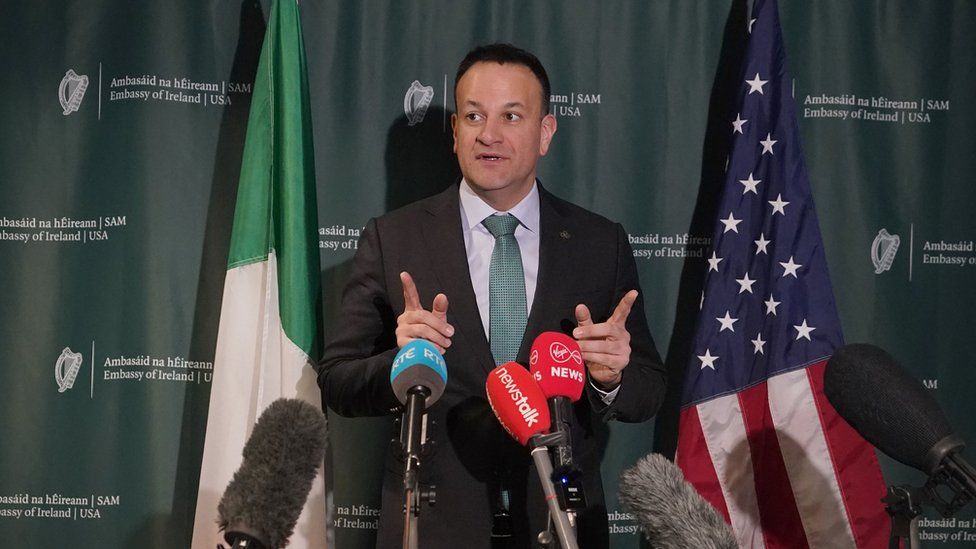 Meanwhile, Taoiseach (Irish Prime Minister) Leo Varadkar has said he is really looking forward to Mr Biden's visit.
He was speaking in Washington as he began a three-day visit to the United States.
Mr Varadkar is set to meet the president and congressional leaders on St Patrick's Day.
The taoiseach said Ireland's relationship with the US was "very much a two-way street", with Ireland the ninth biggest investor in the country and almost 300,000 people in Ireland working in US-based companies.
Source: British Broadcasting Corporation