In his emotional acceptance speech after winning the best supporting actor award at the Oscars, Ke Huy Quan spoke of his journey as a young boy on a boat from Vietnam, via a refugee camp in Hong Kong, to California.
"I spent a year in a refugee camp and somehow I ended up here on Hollywood's biggest stage," he said. "They say stories like this only happen in the movies. I cannot believe it's happening to me. This is the American dream."
He is the first person of Vietnamese origin to win an Oscar, and one of two nominated this year – the other was Hong Chau in The Whale, whose family also fled from Vietnam on a boat.
Yet in Vietnam the official reaction has been subdued. Reports in the media, which is nearly all state-controlled, have said little about Ke Huy Quan or his background.
Some have stressed the actor's ethnic Chinese ancestry, rather than his Vietnamese origins. He was born in the southern Vietnamese capital Saigon in 1971, his family part of a commercially successful ethnic Chinese minority, of the kind seen in many South East Asian cities. None mentioned his flight from Vietnam as a refugee, in the mass exodus of the so-called "boat people".
Thanh Nien newspaper wrote only that "he was born in 1971 to a Chinese family in Ho Chi Minh City [the official name for Saigon] and then moved to the US in the late 1970s".
Tuoi Tre wrote: "Quan Ke Huy was born in 1971 in Vietnam to a Chinese family, with a mother from Hong Kong and a father from mainland China."
VN Express wrote that the actor "has Chinese parents in Cho Lon area", the commercial district of Saigon traditionally inhabited by ethnic Chinese.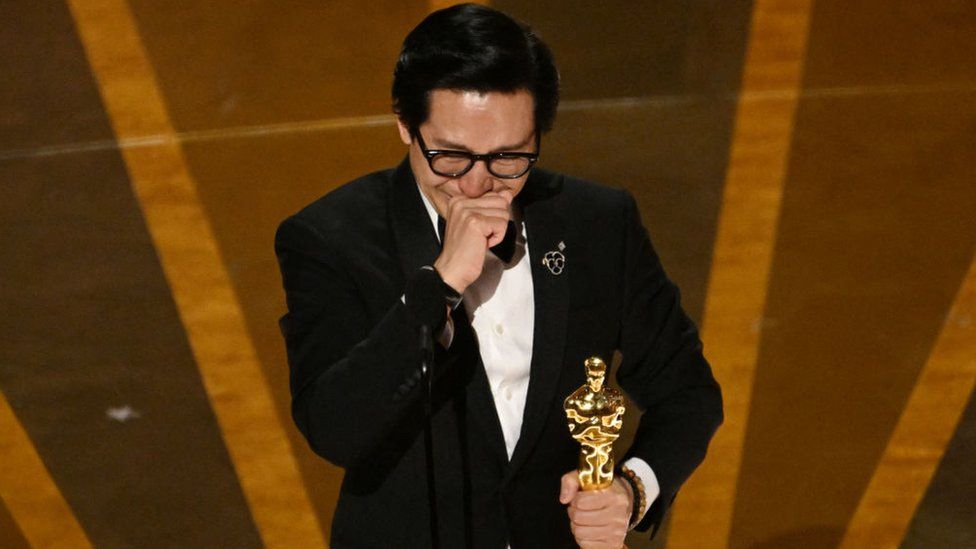 No-one in the Vietnamese government has said anything, though that is perhaps less surprising from the habitually taciturn Communist Party. Why this reluctance to embrace a successful and now globally-recognised actor, who openly acknowledges his Vietnamese roots?
The exodus of the boat people in the 1970s and 80s was one of the darkest episodes in Vietnam's recent history. More than 1.5 million people left, most of them ethnic Chinese, on often rickety boats across the South China Sea.
According to the UNHCR between 200,000 and 400,000 died, some at the hands of ruthless pirates. For a communist party which at the time had just defeated the military might of the United States, and has more recently presided over spectacular economic growth, it is an episode they would rather forget. Ke Huy Quan's Oscar is bringing it all back.
The tragic flight of the boat people is also a reminder of Vietnam's fraught relationship with its giant neighbour China. The two communist states were officially very close in their formative years after World War Two, with large quantities of Chinese assistance going to North Vietnam during its struggle against first the French, and then the Americans.
But by the time of the North Vietnamese victory in April 1975, and the reunification of the country, relations were increasingly strained. This happened as Vietnam's communist leadership sided with the Soviet Union over the Sino-Soviet split and the Chinese rapprochement with the US.
The large ethnic Chinese population, mainly in Cho Lon, including Ke Huy Quan's family, were caught up in this. They were already under pressure from the victorious communists as the main capitalist group in South Vietnam, suspected of allegiance to the defeated regime. Many were sent to re-education camps.
Vietnam's economy was in a dire state for many years after the war, afflicted by the colossal damage it had suffered, its international isolation and by inflexible socialist policies of the new regime. As they usually had the money to bribe officials and hire boats, the ethnic Chinese began leaving in large numbers in September 1978.
The exodus accelerated after the Chinese attack on Vietnam in February 1979, a time of heightened anti-Chinese sentiment. It continued for more than a decade.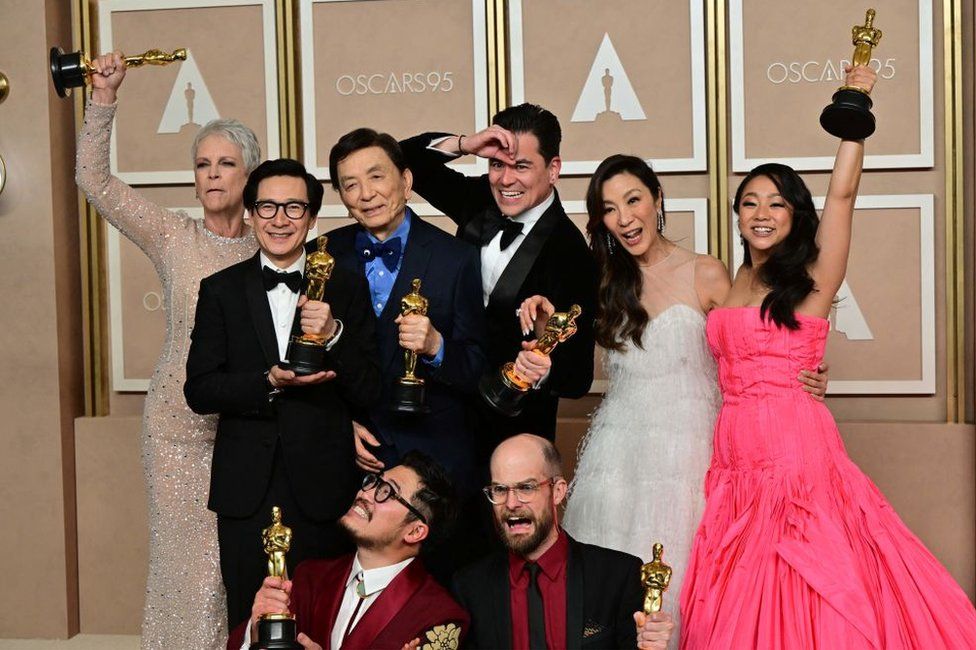 The troubled relationship with China continues to the present day, though not so much with the ethnic Chinese. Many Viet Kieu, as those who fled are called, have been able to return to Vietnam and prosper.
But resentment at China's aggressive policies over disputed islands in the South China Sea, and its growing economic clout, fuels powerful anti-Chinese sentiment in the population.
"He [Ke Huy Quan] is not of Vietnamese descent, he is just Chinese-Vietnamese and was born in Vietnam. We have to make that clear," wrote one person on the BBC Vietnamese Facebook page.
"They should write very clearly that he is Chinese-American, that he used to have Vietnamese nationality! I cannot not see any "Vietnamese origin" here?" wrote another.
But yet another poster wrote that "we should say he is Vietnamese, as he was born in Vietnam and is of Chinese descent".
From Ho Chi Minh City, writer Tran Tien Dung suggested on Facebook that Ke Huy Quan's identity is as a "Saigon-Cho Lon" person: "For me, Quan Ke Huy gets his energy from his birthplace in Saigon – Cho Lon, and his fame from growing up in the United States. So I want to congratulate him and share the joy with the public on social media."
"I think the way state media has neglected Ke Huy Quan's history as a boat person is regrettable," says Nguyen Van Tuan, a professor of medicine at the University of New South Wales in Sydney, and also a former boat person.
"The story of refugee boat people in the 1970s and 80s is a tragic chapter in the nation's history. Most Vietnamese refugees arriving in the US at that time, whether of Chinese descent or "purely Vietnamese", were very poor. They didn't speak English. Yet they survived, and thrived.
"Today's generation in Vietnam cannot imagine the hardships of refugees at that time, partly because they have not been taught about that sad and painful period of our history."
Source: British Broadcasting Corporation