Two men scramble their way down a concrete wall while an Israeli military camera they've torn off the top dangles beside them.
"Hey lad, where are you?" yells one. "Follow me!"
The other – bare-chested – abseils down as video filmed by a third person shows what looks like a freshly raised Hezbollah flag fluttering above.
They run for it, away from the Israeli watchtowers and tanks ranged along the other side.
This is a life-threatening game of dare at one of the Middle East's most incendiary boundaries, among several raising fears of violent and bloody escalation.
Recent months have seen a growing number of incidents at the so-called Blue Line, the United Nations-patrolled boundary that separates Israel and the occupied Golan Heights from Lebanon.
The UN peacekeeping force in Lebanon, Unifil, says both Israel and the Lebanese militant group Hezbollah have carried out multiple breaches of international commitments at the line and beyond.
And there have been more serious moments still – including rocket fire into Israel by Palestinian militants in Lebanon who have Hezbollah's backing, and Israeli artillery fire back over the wire.
Earlier this year, a cross-border raid saw a militant from Lebanon – later shot dead by the Israelis – carry out a roadside bomb attack in northern Israel close to the biblical site of Armageddon.
So are the chances growing of a third devastating war between Israel and Lebanon?
Fears of another flare-up
I jump into a dune buggy driven by Levav Weinberg – an apple farmer in the northern-most Israeli town of Metula.
The terrain here is spectacular, looking out over the wooded mountains of the upper Galilee and far into the green steppe of southern Lebanon, which we can see directly over the fence.
"The white tent over there next to a blue car, that's a Hezbollah tent… you can actually see that from my bedroom," Mr Weinberg tells me as we speed towards the boundary. "Now in the beginning, I didn't understand why my wife didn't want to sleep near the window. But sometimes you can hear them," he says.
In recent months Israel has complained to the United Nations that Hezbollah has placed tents close to the boundary. One was on the Israeli side of the line on the occupied Golan Heights, in breach of UN resolutions, under which the group is also supposed to have disarmed.
Lebanese officials in turn point to breaches by Israel, including fighter jet overflights of its territory. Tensions at the boundary are not new, but Mr Weinberg believes actions there have become audacious, feeling more threatening, this summer.
We drive through a military gate to a patrol road. Aside from the army, only farmers can get through. It's the route to his apple and nectarine orchards. We drive here as close as it's possible to get to Lebanon – running alongside the military fence.
All the signs of ordinary Lebanese life are within shouting distance – a minibus cruises down a nearby road. I can see people chatting at a tourist spot along the nearest hill.
But we're just metres south of the Blue Line – we head past blue barrels painted with black text: "LINE OF WITHDRAWAL 2000. DO NOT TRESPASS".
They mark the agreed boundary of Israel's withdrawal after its 18-year occupation of southern Lebanon, which it invaded in 1982 to drive out Yasser Arafat and fighters of the Palestine Liberation Organisation (PLO).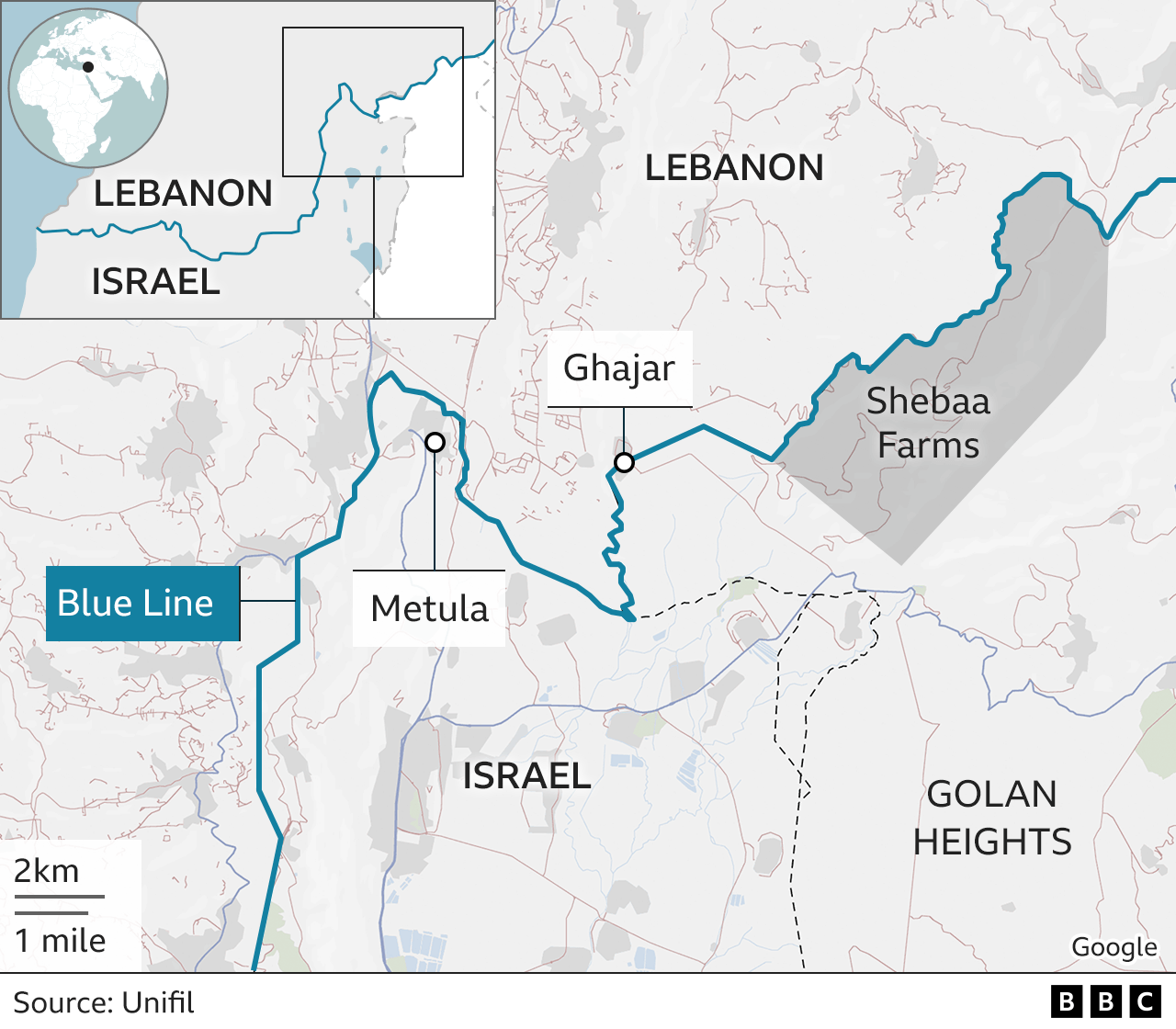 Four decades on, the tensions have evolved, but the boundary still divides two countries formally at war.
"Two days ago people came [to the fence] to throw stones," says Mr Weinberg. "They don't have a uniform, but they definitely support Hezbollah because they were only saying bad things to us – shouting in Arabic and English – 'we will kill you, we will take over your land'," he says.
He shows me a video he filmed that morning of several armed men standing on a hilltop on the other side. He believes they were Hezbollah fighters.
"It's new," he says. "You didn't see that before. You could see the Lebanese army and the United Nations [peacekeepers], but they don't stop [like this]."
Mr Weinberg lived through the devastating second Lebanon war of 2006 and fears another flare-up. He was a soldier back then, before he had a family.
"It was a big mess," he says. "But I was a single person, no wife, no kids. So you look at your life differently. Metula looked like a war city… I hope we're not going back to that."
A tripwire for war
Everyone I speak to by the fence and further afield believes neither side seeks an uncontrolled escalation. Much of this is brinkmanship that has gone on for years.
In fact, when I asked Unifil for its current take, it praised an "unprecedented period of stability" for the last 17 years in southern Lebanon, thanks, it says, to the "commitment of Lebanon and Israel".
But the context has been shifting, the rhetoric ratcheting up, and both sides conducting military drills close to the line.
History here suggests miscalculation is always possible. And when things go wrong, they do so quickly. The Blue Line is a tripwire for war.
Hezbollah, a Lebanese Shia militia, is proscribed by Israel and much of the West as a terrorist group, but is backed by Iran. It was founded as a resistance force against Israel's occupation of southern Lebanon in 1982.
Now, the dominant force in the crisis-hit country, it still derives its key base of support by appealing to what it sees as its founding necessity. This is especially so given the mounting challenges faced by the state's official military, the Lebanese armed forces, which Unifil is there to support.
The group's leader Hassan Nasrallah recently accused Israel of breaching the Blue Line and called for the "liberation" of the Alawite village of Ghajar in the occupied Golan Heights.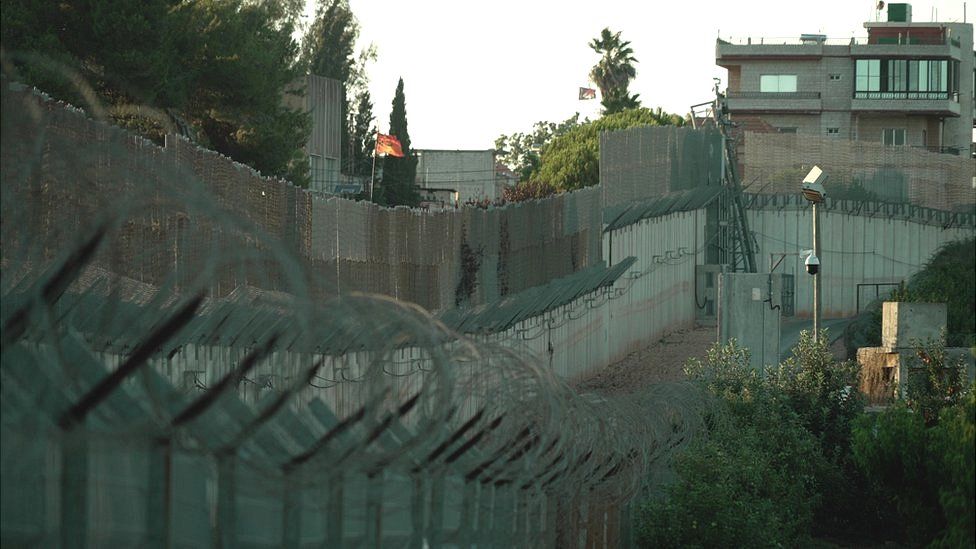 The Israeli-controlled village straddles the Blue Line. Residents there, backed by Israel, built a new security fence, which juts well inside Lebanon. Unifil calls this an "ongoing violation" by Israel of its international commitments.
Such points are ripe for exploitation by Hezbollah. One of the tents it set up along the line was nearby, in another area of common friction. And earlier this month, an anti-tank missile was fired from the Lebanese side towards the fence in Ghajar, triggering Israeli shelling in response.
"The tensions between Hezbollah and Israel are happening against the backdrop of a political vacuum in Lebanon in which the country has not had a president since October of last year," says Prof Lina Khatib, director of the SOAS Middle East Institute in London.
"Hezbollah is being quite firm that it will not agree to any candidate except one of its own choosing. The more Hezbollah can show that it is powerful and relevant, the more it feels it [increases its] chances of having its way with the Lebanese presidency," she tells me.
Prof Khatib says the group pushing its agenda at the Blue Line is a "PR move" aimed at its domestic audience.
But she adds, this is nothing new. So what else has been shifting in the region?
The standoff is part of a broader regional conflict, often taking place in the shadows. Israel regularly bombs proxy fighters of Iran operating in neighbouring Syria. It says this is to prevent further weapons stockpiling by Hezbollah, which it believes has amassed around 150,000 rockets, including long-range Iranian-made missiles capable of striking Israeli cities.
Israel has been adamantly opposed to US attempts to renew its nuclear deal with Iran – which would drop many sanctions against Tehran. It also frets over recent reports of a side-deal in place of the main one, which is currently stalled.
Israel argues any agreements would empower Iran's regional behaviour and renew cashflows to its proxies like Hezbollah. By highlighting the Iranian-backed threats sitting on its borders and its readiness to act militarily, Israel keeps up a sense of pressure weighing against the nuclear deal.
New barriers, growing tensions
Further west along the wire I clamber up concrete fortifications at an army post to talk to the spokesman of the Israel Defense Forces (IDF), Lt Col Richard Hecht.
The rusting fence at this point clearly dates back decades. We peer through a big hole in it at a Hezbollah flag. It has been hoisted just a few metres away. Nearby is a makeshift watchtower.
"It's a Hezbollah observation tower," says Lt Col Hecht, looking across the line. "We're being watched. Sometimes, they'll come out and wave," he adds.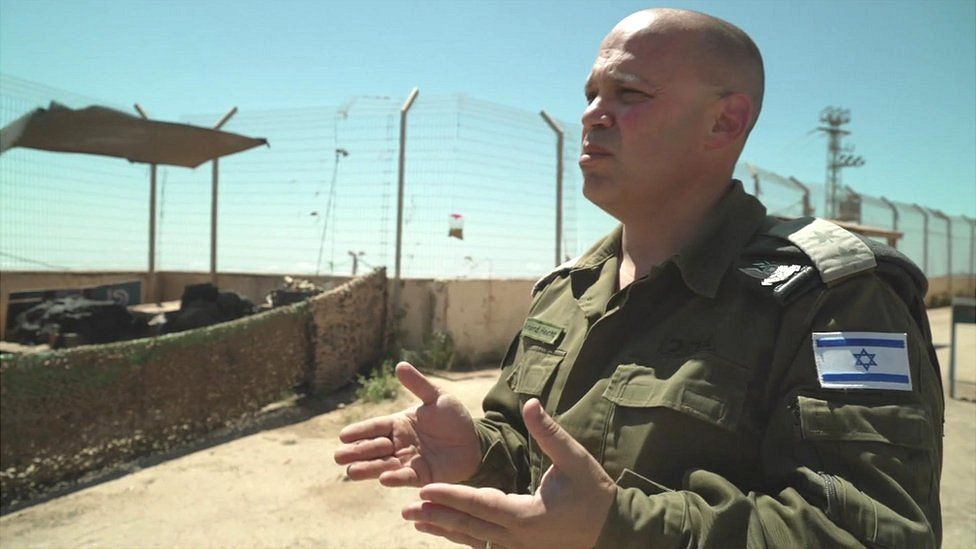 Israel has been building miles of new barriers on its side of the boundary. Every few minutes, a military truck kicks up the dust and rumbles past carrying another slab of the wall. Then we hear the rotary thuds of a Unifil helicopter, patrolling the line.
You feel the tension, the sense of fortification. Just behind us, there are three Israeli tanks.
The spokesman refers to Hezbollah's leader Hassan Nasrallah and his recent messages.
"We are holding the line, we're trying to stand very firm and send the message again. But the message is at a certain level. [Nasrallah] is acting under a threshold right now. And we're also acting under a threshold.
"But again, when they came and touch the fence we use non-lethal means to get them away. They're poking us and we're defending our border. The risk is this thing will escalate."
I put it to him that Israel is also in breach at parts of the Blue Line, and breaks a UN Security Council resolution with its overflights of Lebanon.
"I know there are two [ground] areas that are under dispute. There's a diplomatic effort to come to solve those areas. This is being held by our political echelon," he says.
"Our focus is mainly on the Blue Line, [but] when we fly in Lebanon it's focused on defending and targeting things that threaten our country, which we'll keep doing."
Posturing ahead of US-brokered talks
But other changes may also be affecting each side's calculations.
On Tuesday, Sheikh Nasrallah portrayed Israel as weak and chaotic due to its unprecedented internal unrest over the coalition's plans to overhaul the judiciary.
"Israeli society used to believe their army was invincible and their state would stretch from the sea to the river… these beliefs kept degrading until they reached the crisis they are living in today," he said.
Some ultranationalists in the Israeli government – the most hardline religious-nationalist coalition in the country's history – have focused their attention on Jewish claims of sovereignty at Jerusalem's holy sites.
Meanwhile, there have been increasing signs of "unity" arrangements between Gaza-based Palestinian militant groups and those in Lebanon, who rally around the defence of al-Aqsa mosque in Jerusalem.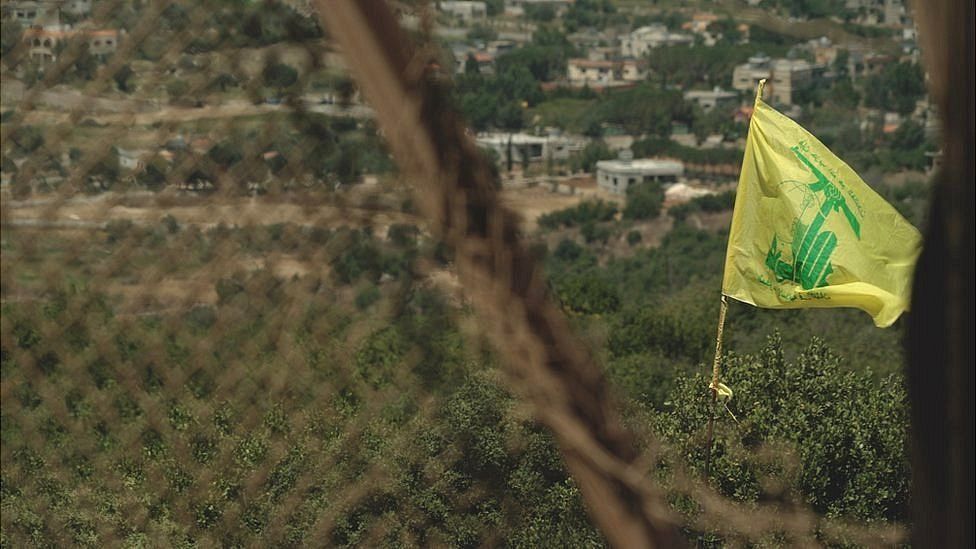 Several times in the last two years, including this April, Palestinian groups in southern Lebanon fired rockets into Israel during times of violence relating to al-Aqsa. Such rocket fire from Lebanon can only happen with Hezbollah's say so.
Growing tension over Jerusalem becomes another part of the calculation when it comes to the chances of escalation over the Blue Line.
And despite remaining formally at war, Israel and Lebanon last year agreed a historic maritime deal to establish a permanent border in the Mediterranean Sea. It was largely about carving up lucrative gas fields.
In the run-up, tensions surged as Hezbollah flew three unarmed drones towards an Israeli vessel. Posturing, perhaps, ahead of negotiations by each country to get their best deal.
If the American-brokered effort now moves to an attempt to demarcate the Blue Line as a permanent international land border, both Israel and Lebanon will want to be in the best starting position.
Before that, each side will be trying to push their claims on the ground.
Source : BBC